Open to members only
----------------------------------------------------------------------------------------------------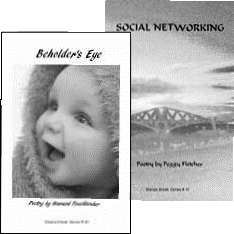 2 recent chapbooks
Let The Ontario Poetry Society Publish Your Chapbook
Chapbooks of up to 28 pages of poetry will be considered
for collections which may include up to 2 members per chapbook.
Other standard sizes - 24 pages, 20 pages & 16 pages of poetry
Chapbooks that are not a standard # pages will have blank pages.
The scheme of things:
1 member provide all pages of poetry
- or -
2 members provide 14 pages of poetry each

[ each page - 36 lines max. which includes title and blank lines between stanzas ]
Cost: $6 per chapbook

Minimum first run order is $300 for 50 chapbooks
This fee includes all taxes, insured shipping and handling expenses.
Editing:
Should the collection require any editing, additional charges may apply.

Extra copies will be printed for The National Archives and the Reviewer.

Chapbook Specifications:
page size - 5.5" w x 8.5" h
inside paper - 24 lb. white
cover - colour card stock
cover Illustration - black ink only
interior illustrations - black ink only
photographs - black & white
binding - stapled and trimmed (standard for chapbooks)
ISBN: provided by TOPS

[ photos & illustrations may be submitted in colour but will be converted to black/white ]

Cover illustration may be provided by the member or TOPS can provide assistance
at no extra cost. TOPS arranges a fellow member to write the Review for a future
issue of Verse Afire and also invites the member to attend any T.O.P.S. event to
launch their book.

All collections must be submitted in a WORD file. Colour head shot photos may be sent in a J-Peg.

Reprints:
If you run out of copies from your initial order and want more,
reprints are $5 per chapbook. Minimum re-order is $100 for 20 chapbooks.
This includes the set-up fee to make your collection print ready.
Note:
TOPS maintains electronic files for your chapbook - photos, illustrations and print ready manuscript
[ original photos/illustrations can be returned ]
- If you want print ready files on a CD/DVD - cost is $10.00 per disc -
[ This service is provided only to those who order their first run through TOPS ]

Payment:
Payment must accompany poems, bio/bio pic and be mailed to:
I.B. Iskov, #710 - 65 Spring Garden
Toronto, Ontario M2N 6H9