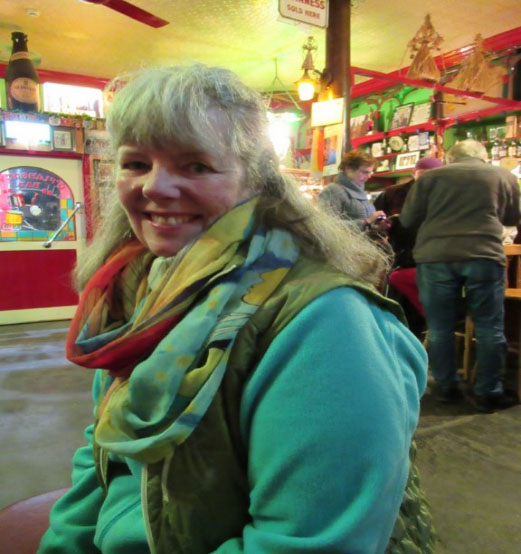 After living in Chibougamau, Addis Ababa, Athens (Ontario), Kingston, Ottawa, Cowansville, Montreal, and Toronto, Wendy Jean MacLean has finally settled down in Brockville, at least for now. Her work as a minister of the United Church of Canada has given her the opportunity to work with poets, prophets and preachers of the centuries, particularly the ones writing and agitating around two thousand years ago. Her degree in Classical Studies and English from Queen's set her up for a lifetime of reading pagans and poets, and responding, as they do, to the mysteries and wonder of the universe. Wendy has a regular column called "Inspiratio" in Gathering, a grassroots resource for liturgy and theology.
Wendy's work has been commissioned and sung by choirs across Canada and abroad. Her poem, The Stars Point the Way, set to music by Mark Sirett, and published by Boosey and Hawkes, won the Outstanding Choral Award.
Wendy lives with her pur laine husband, Michel, who translated her first book of poetry into French.

Memberships:
Ontario Poetry Society
League of Canadian Poets
Awards:
Big Pond Rumour ezine (1st prize poetry 2019)
Big Pond Rumours Chapbook Contest (1st 2019)
William Henry Drummond (1st and 2nd 2016; 1st 2017; 2nd 2018)
Open Heart 2016 (1st)
Brooklin Poetry Contest 2019 (2nd)
Poetry Matters 2017 (1st)
Utterly Christian 2017 (Hon. Mention)
Golden Grassroots Chapbook (Hon. Mention)
Ultra Short Poem Competition 2017 (Judge's Choice)
Picture Perfect Anthology (2016)
Arborealis (2016; 2018)
The Leaf (2nd)
Books in Print:
Leaving a Trail and a Song (chapbook) Big Pond Rumours 2019.
Spirit Song in Ancient Boughs. Borealis 2008.
Rough Angel/Ange Ecru (with translation by Michel Gadoury). Borealis Press. 2006.
Contact Info:
wendymac55@hotmail.com
Selected Publications:
Roll Call (anthology) Skywing Press 2019
Becomes Bethlehem 2019 (with music by Mark Sirett) Boosey and Hawkes (Hal Leonard)
Open Heart (chapbook) 1st prize 2016
The Stars Point the Way (with music by Mark Sirett) Boosey and Hawkes (Hal Leonard)
Magnificat for Turning 2008 (with music by Donald Patriquin) A Tempo
Gathering (regular contributor)
Green Spirit (Volume 16.2)
Arborealis (anthology 2016; 2018)
Creations Spirituality Newsletter