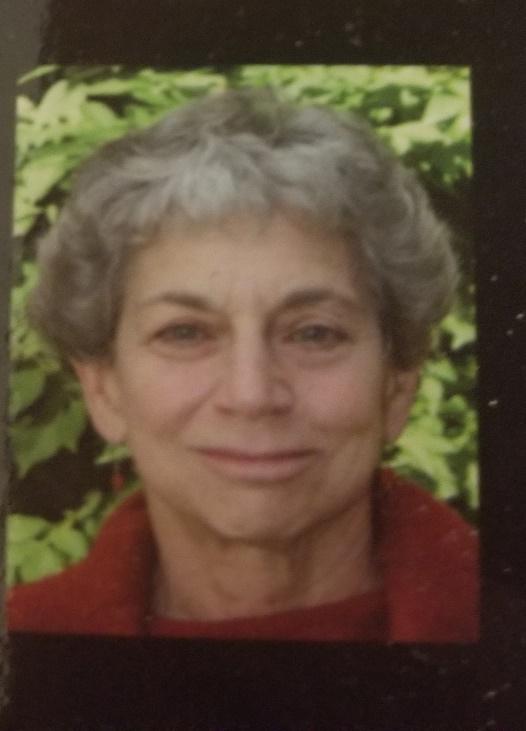 In Memoriam
Ellen S. Jaffe
B - March 15, 1945 - D - March 16, 2022
Born in New York City, Ellen came to Canada in 1979.
Ellen's talents include more than writing poetry. Her most recent
collection is Skinny-Dipping With the Muse, Guernica Editions, 2014;
In addition, Ellen has written and produced plays for children and
adults as well as writing a book on the craft of writing poems titled
Writing Your Way: Creating a Personal Journal.
As well as performing her poetry, Ellen has given poetry
workshops, where she inspired many emerging and established poets.

Springing, Longing
Ellen S. Jaffe
(Skinny-Dipping With the Muse, Guernica Editions, 2014)
Now I am filled with such longing,
not to possess you
or even be possessed, though desire's there,
but to share time, space, touch
our edges like fingers pressing together
in that game where we shut our eyes,
can't tell one finger, one person,
from the other - if only for a moment.

And now the cardinal is singing again
and again and again,
impossibly high in the treetops,
as if his heart would break
and overflow the world
with such red music.


Poems & Tributes for Ellen S. Jaffe
I Cannot say Farewell to Ellen Jaffe, Always Near Me
Katherine L. Gordon
There is a little painting, just a leaf and a flower,
suspended in the corner of the big and bright window-scape
of my study.
A gift from Ellen Jaffe who knew I loved flowers.
Once we went hunting butterflies
in the valley riverside,
just to count and enjoy their carefree wings in flight.
We shared a love of all things wild, cared for the happiness
of the world and all its peoples.
Ellen sent me a tribute book of poems for her mother,
she spoke of her son, for Ellen loved her family
and all her friends.
We knew the joy of poetry, felt its connection to the universe
and the closeness to each other in its expression.
What a void you leave in my heart dear friend,
what a loss to the world of poetic creativity
and to all those who knew you through it.
Your words will comfort and teach us,
I will cherish all things in your memory.

A Note on Ellen
Submitted by Elana Wolff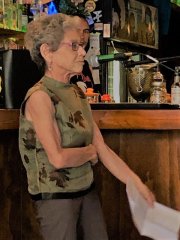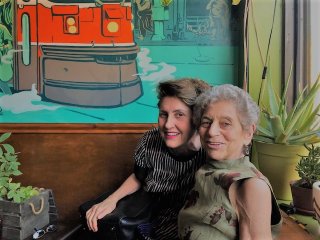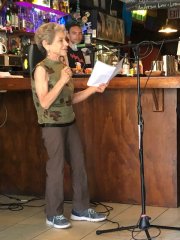 A note on Ellen: Ellen and I were part of the Draft Reading Series group-reading that was held at Farside bar on Gerrard Street in Toronto on July 14, 2019. We both brought "mother poems" to read, though we hadn't coordinated ahead of time. Our late mutual friend, poet Malca Litovitz, had a word for this sort of thing: "chung" - a serendipitous coincidence that most often occurs between good friends and kindred spirits. Malca and I would often "chung"; Ellen and I "chunged" as well. Ellen and I met and became friends over poetry. We read together at a number of poetry venues, socialized over poetry aand wrote about each other's work. The Draft event at Farside was the last time we read together in public and I'm happy to have these photos, which now feel commemorative. The one of us together captures the upbeat mood of the occasion, Ellen's warmth and our closeness.
When getting together wasn't possible, we exchanged emails. We exchanged a series of emails in December, 2021 when Ellen told me she was on a new course of chemotherapy. I asked if I could pay her a visit, she said it would be best not to meet up under the circumstances. Unfortunately, the new course of treatment was not to be successful. Last month, February, 2022, just before I was scheduled to depart for a two-month stay in Tel Aviv, I received an urgent phone call from Bunny Iskov. Bunny told me that Ellen was not doing well and that TOPS would like to set up a memorial award in her honour. We brainstormed and came up with the title, The $1,000 Ellen S. Jaffe Humanist Award for Poetry, for a suite of poems on humanist themes that were dear to Ellen: family, community, traditions and customs, social issues, peace and the effects of war, climate change, ecological issues and the healing power of poetry. Bunny, insightfully, wanted Ellen to know about the award that TOPS was establishing in her honour, to vet the themes and guidelines, and to receive a measure of gratification from knowing that her passion for poetry would continue on in her name. And this is what happened. Through a three-way exchange of mails, Ellen was fully involved in the setting up of the award and was able to 'shep some nachas' (Yiddish for 'derive pride and joy') during a most difficult time.
On the eve of my departure for Tel Aviv, I asked Ellen if I could pay her a visit upon my return to Toronto at the end of April. This time she agreed, but she must have known that her days were numbered and that our visit would likely not take place. I was deeply saddened upon receiving the news of Ellen's passing on March 16th, one day after her 77th birthday. May her soul ascend, may her name and memory be for blessings, and may her poetry and love for poetry live on.
At Arm's Length for Ellen Jaffe
Submitted by I.B. Iskov
We did not have enough time
to really get to know
how our coffee cups might align
or how our poems
might have conversed.

We did not have enough time
to weave our bruised musings
into a comfortable comradeship.

After you moved to Toronto
the streets were too busy to traverse.

There was not enough time
to mutually navigate room.

I was always
at arm's length,
inching for one interval
for obstacles to disappear.
Overnight, cancer stopped time.

We may meet each other in my sleep.
There will be nothing to dread.
We'll sit in the centre
of time.
SEARCHING FOR THE WATER-CHESTNUTS
Submitted by Rhoda Hassmann
At the store I realize
the grocery gremlin's been at it again
the water-chestnuts have disappeared

I've figured out
that all Middle Eastern food is in the kosher section
but they keep moving the peanuts around

At the grocery store
old people conspire to help each other
I recommend soy sauce to a lady who lives alone
and finds her white rice boring

A scruffy guy opens the dairy section beside me
and asks if I've ever had a heart attack
I say no, and he tells me all about his own
I suggest he get back with his wife

In the frozen-goods aisle
a small stocky man with black hair
tells me I'm a beautiful woman
He must be lonely too

And the last time I saw Gérard
before he died
he was pushing a cart with nothing in it
but one bottle of cranberry juice

At the grocery store
we avoid rollicking teenagers
and efficient younger adults
hope the stockers and cashiers and packers
will be patient

And shop for Ellen
when she breaks her ribs



First printed in The Banister: A Niagara Poetry Project, vol. 35, 2020, p.50
Still, or, You Were Dying and Wrote a Book
Submitted by Anne Pollard
after Ellen Jaffe's The Day I Saw Willie Mays and Other Poems

This is my brick at the bottom of the stairs that props open a banging door.

Are you still beneath the pebbles? Beneath the pebbles, are you still? With each turn of every page, dust is smacked from your empty hands. Palm clicks against palm, against lifelines of dirt and sweat.

How is it that the ground moves so? Didn't I throw earth upon your grave? How do you evade prescription? Oblivion?

Remember me, you said.

In a universe of tall, booming men you rang, your whispers usurped their shadows. You resonated. You resonate still. You whisper movement. You whisper —

Still.

Ellen, you are no dust. You are a turning. An underground stream.

Don't waste one drop, you said.

I wish a river like you. I wish for burning coal. Warm air from an indolent fire. At times, I dream explosions.

Yet my teeth stutter syllables. The mole beneath my heart must rewrite these words, again and again. More cubic zirconia than carbon. More water than milk. More hope than fire. Your last words to me -

I love you.

We are - I am - a turning. Coffee upon sour breath. Pursed lips, furrowed brow in the subways of your hometown, the cobbled streets of mine. A hand that remembers, lifts pen, pauses.

A salute? A prayer?

You are here speaking and I, my friend,

Am moved

Still.